How to Choose a Forex Programmer | 4xDev
8/27/2020 10:00:00 PM
7 Tips to Hire an Expert Forex Programmer
After spending weeks and months planning your Forex trading, it is time to find an expert that can help you bring those ideas to life. Of course, a lot of coders can perform this. However, you could make a mistake if you can't differentiate Peter from Paul. You know, there are too many pseudo specialists.
Searching for the best candidates on the Google platform, you may find some recommendations that seem genuine and capable. But how can you tell that this or that developer is right for you?
Hence, we have drawn up some tips in this guide, helping you pick a reliable Forex coder.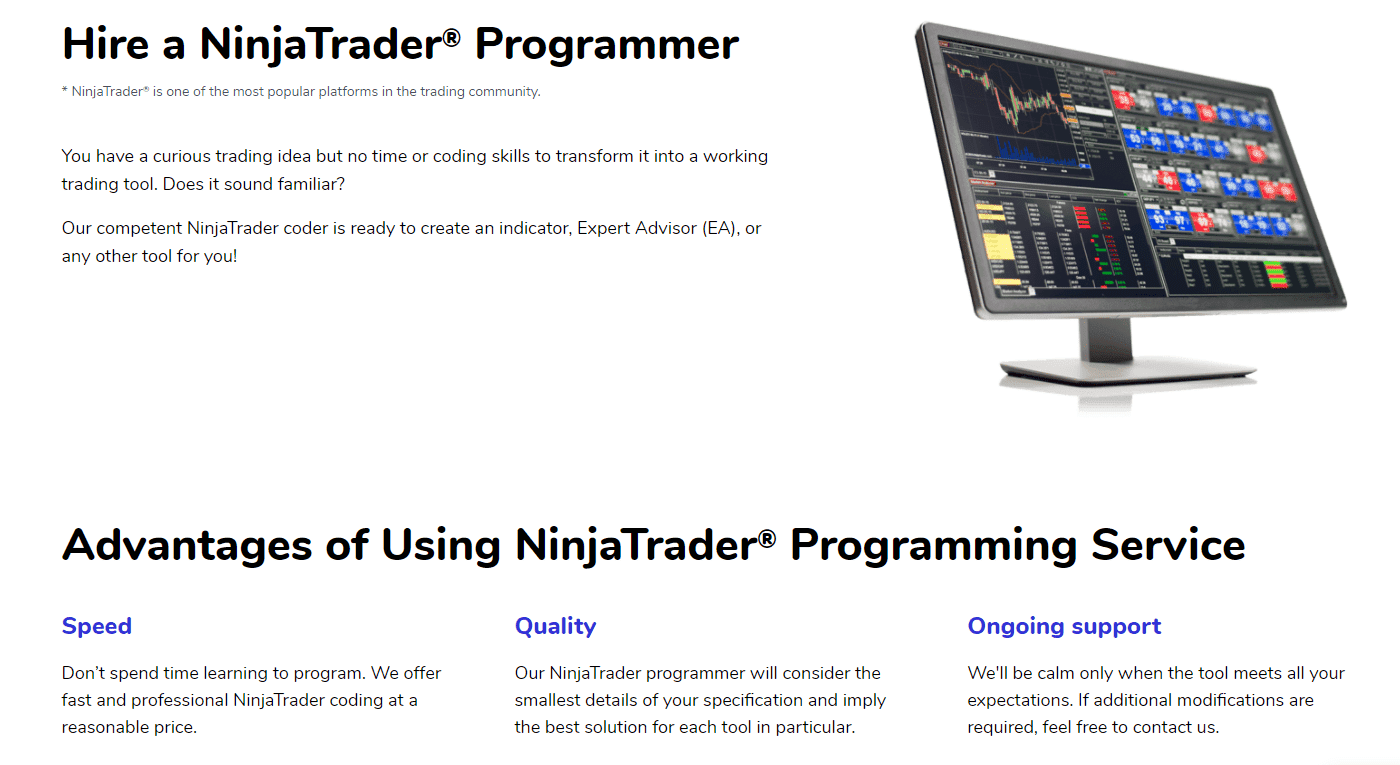 Professional NinjaTrader Programmer
1. Search online for a Forex programmer
This is the first step in finding an expert developer. Just google "Forex programming." The search system will bring up the list of Forex coders or companies that deal with programming.
2. Choose a trusted programming service
The aim of finding such a specialist or a company is to work together for years. Hence, you should look for one that is trustworthy.
Do that by checking the reviews unhurriedly and thoroughly. Find proof that a particular dev company is reliable and can help you achieve your aim in the Forex world.
3. Ensure you choose a service with reliable payment methods
Before you accept the company's terms and make your payments (whether online or offline), ensure that the company has a proper payment channel.
If you notice name differences or any suspicious payment methods that cannot be traced, grab your money and run away.
4. Start with a small project and move from there
Even after you have done your research on this company and found out that they are trustworthy, give them a small task first. If there is progress, you can move on to higher tasks.
This helps you check the company's competence, punctuality in delivery, efficiency, and skills.
5. Have a concise project specification
The first thing to do before meeting an expert to handle a project is to get a good project plan. The software requirement specification should be working. Moreover, define the modalities you want to embed in it.
This document doesn't have to be complex or formal. You could simply pen down what you want to implement on a sheet of paper. So, you can point it out on the detail sheet when you will explain your project to the developers.
Without this, your coders wouldn't be able to do anything, no matter how good they are. You must know what you want first before programmers bring it into play.
6. Develop your testing plans, so you can test your software after it was created
Before you accept the project, think of various setbacks. When you have tested your trading plans all around and found no shortcomings, you can apply them in your trading activity.
7. Test the program to see if it is functional
Once your programmers have completed a task and created a tool, check and cross-check its functionality in coders' presence. If you test it in a live account first, you could find various issues. There could be a bug that coders didn't notice.
How to Test Programmers
You should check several aspects before using the company's services. Find if the coder could handle your task. Test the capability of your developers. Consider:
 Their speed in giving a response
 Communication skills (regardless of the language you speak)
 The kind of questions they ask you to clarify the specific details of your project
 Their attention level
 If the amount they have laid before you wouldn't injure your budget
 Their ability to present a testimonial or reference
When you have ascertained the kind of specialists you want to handle your project, the remaining task left is to pay up, whether in installments or full.
Not every coder will give you exactly what you want and that privilege of making payments in installments.
4xDev services are different from other programming services out there. Do you want to know how we can help? Contact us directly. After finalizing all details with us, try out a small project and see how it goes before proceeding with bigger ones.
4xDev: Hire a Top Forex Trading Programmer
4xDev is one of the most reliable programming companies to create a project. We focus on developing a long relationship with our clients. Our Forex coders can perform several premium services, including automating your trading (Incremental Automation) or creating a custom indicator.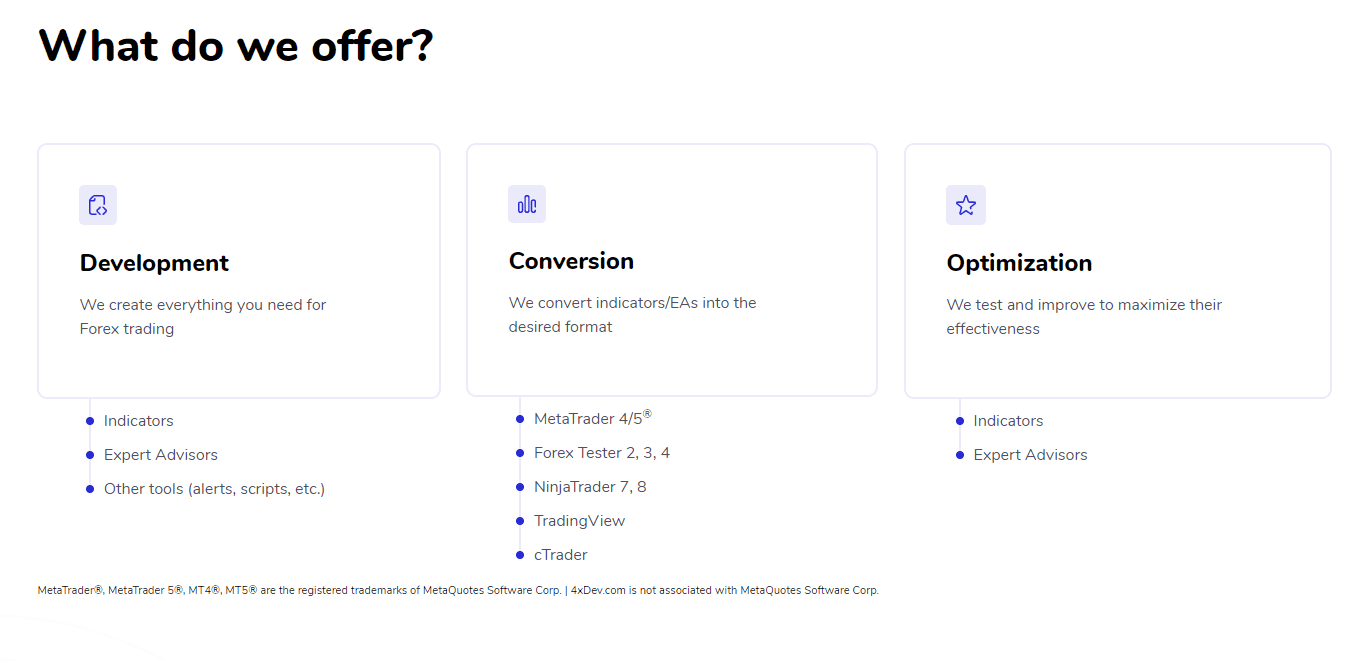 Custom Programming for MetaTrader®, NinjaTrader, TradingView, cTrader, and Forex Tester
You can get high-quality 4xDev programming services at an affordable price. The 4xDev company has:
Extensive customer database
4xDev has been able to complete orders for more than 2000 clients around the world.
The programming company has a wide experience in trading Forex. We are 6 years on the Fx market. So, we know all Forex peculiarities.
Our Support Manager will reply to you within a business day. He will answer all your questions. Moreover, he is responsible for monitoring the order execution. 
The professional code tester checks your order with 100% accuracy.
You can pay through credit/debit card, WebMoney, Paypal, YandexMoney, Wire transfer, Konbini, and QIWI.
In Conclusion
The Forex world is booming every day.
To be grounded and make good profits, you need excellent trading software and an excellent programmer to develop it. Check our guide and find the best coder to achieve your goals.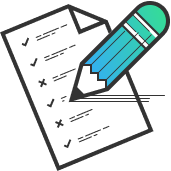 Do you doubt the reliability of the indicator? Want to check if there is no redrawing? Need an expert programmer to develop a custom Forex indicator? We will do it for you! Just fill in a form and get a free estimate of the price and time needed to develop the desired tool.