Indicator, Script, Expert Advisor: What Are They For, and How to Apply Them in Practice?
10/7/2021 10:00:00 PM
Automation of the trading process is a trend of recent years. And it will only grow.
Markets are developing rapidly. Data transfer rates are increasing every year. Computers are becoming faster and "smarter". Robots, neural networks, and artificial intelligence is no longer news in the FX world.
To keep up with the times, traders have to automate their trading processes. Yeah, it is out of the question to avoid that innovation. 
Trading automation can provide you with:
Speed. Trade much faster using automated assistants and algorithms. Find entry points and close multiple trades quicker. The speed is money in today's markets.
Time. Free up some of the time for your life not related to the Forex universe. Transfer your trading duties to programs. The algorithm will notify you about trade signals or even execute them on its own.
Money. Trade hundreds of systems simultaneously. You know, you cannot do this manually. Furthermore, you can build portfolios of trading robots and get more profit.
Accuracy. The program will trade more accurately than a person since it does not get distracted. It does not require food or sleep. It will not miss opportunities or momentum and will execute your orders in time.
These are just some of the reasons showing traders the importance of automating trading processes. Yeah, this is crucial to grow and develop in the modern market.
Use indicators to analyze the market.
Apply scripts to complete standard daily trading tasks quickly.
Create Expert Advisors to test and optimize your strategy.
The first trader's assistant is an indicator. Its purpose is to: 

Simplify the market picture. 
Show the trader possible entry points.
Moreover, it can draw lines, levels, charts, arrows, etc., helping you decide on further actions in the market.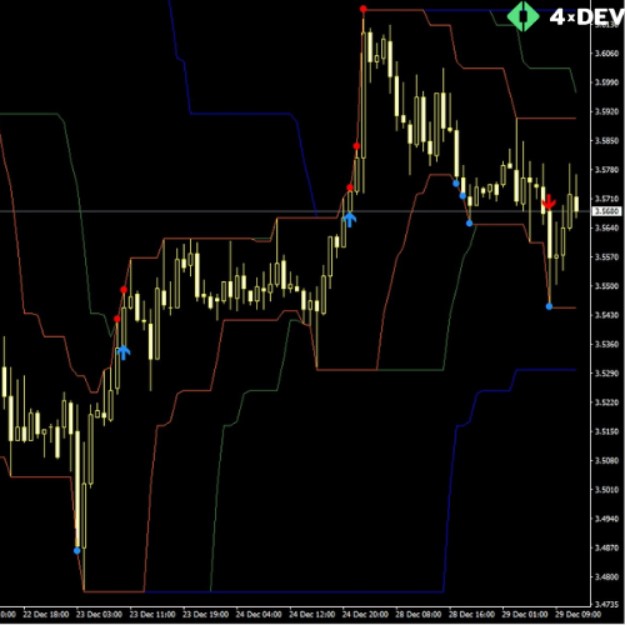 An Example of Several Indicators on a Price Chart
There are some points you should understand about indicators:
An indicator is based on a mathematical formula. However, it is not AI capable of successfully predicting the behavior of a "living" and evolving market.
An indicator can lose a part of the information about the market. Why? In any mathematical formula, there are only a few variables that the indicator calculates. Part of the market data always has to be omitted.
Of course, the indicator has its limitations. However, you can make a profit if you know exactly how to use this tool. 
For example, a master has different power tools to perform various types of work: An electric drill — to drill, a jigsaw — to cut off, a hammer drill — to break. But each of these tools is useless and cannot function by itself.
Likewise, a trader can have his own set of indicators. Each one is performing its crucial function. Your task is to understand: 
How to use each indicator
How to combine them
When this or that tool will come in handy
Remember! The indicator is not able to bring money without a trader's management.
The trending indicator helps determine the trend. You can use it in trend-following strategies.
The oscillator helps find out market pivot points and momentum. Use it in counter-trend strategies.
The informational indicator helps get additional data about the market (data on volatility, volume, etc.).
So, each and every trader needs to create unique tools that speed up and facilitate daily trading. The 4xDev company can develop custom indicators for your needs.
A script is a program that is executed once when a new tick appears (compared to a permanent indicator or advisor). 
The script focuses on helping a trader quickly and accurately perform some constantly repetitive trading actions. 
Scripts can:
Open an order/multiple orders
Close an order/multiple orders
Calculate the lot according to the risk management parameters
Remove all graphic objects from the chart
Etc.
The main gain that any script gives is speed.
For example, you need to close a series of 30 open trades since the profit rate has been reached. As long as you manually close these multiple trades, the price may move against your position. In this case, the profit level will fall. An exclusive script will close all the open trades faster and more accurately.
Using scripts will bring your trading efficiency to a higher level!
A trading robot (so-called Expert Advisor) is a fully automated program that:

Analyzes the market according to a given algorithm.
Opens and closes trades.
Calculates the position volume.
Manages risks. 
There are Expert Advisors with full functionality. In addition, some perform only a part of the described functions.
The main feature of a trading robot is that it trades.
These are the advantages that the advisor gives to you:
Simultaneous testing of several strategies in the current market. You can draw up a software requirements specification. A company that programs EAs (such as 4xDev) will create several trading robots with different logic. 
Launching various advisors will allow you to test several trading systems at the same time. This procedure can be painful for one trader to implement manually.
Fast backtesting of trading strategies. Testing a trading strategy on history can be a very time-consuming task. The EA allows you to do it in a few minutes. For example, you can use the Forex Tester software.

Optimization with selecting the best parameters for a trading strategy. It is problematic to identify the parameters that will be optimal over a long period. An Expert Advisor based on a trading strategy allows finding the best parameters through optimization. You can use the improved strategy in live trading.
Specialists from the 4xDev company can create a trading robot, backtest it, and optimize. Hire us now!
Portfolio creation. A trading portfolio is more stable than a separate system or robot. Just imagine, you can control hundreds of EAs simultaneously!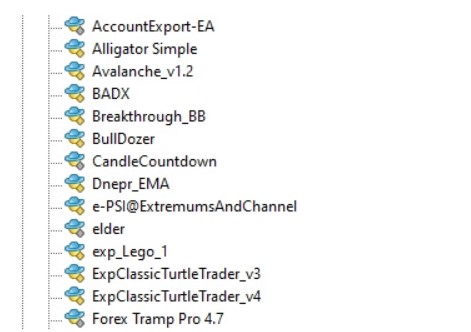 An Example of a Trading Portfolio
So, Expert Advisors have undeniable advantages for traders. So, it would be nice if you have actively used them!
Indicators, Expert Advisors, and scripts will help you to level up in trading.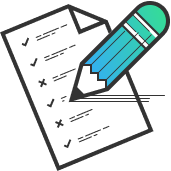 Do you doubt the reliability of the indicator? Want to check if there is no redrawing? Need an expert programmer to develop a custom Forex indicator? We will do it for you! Just fill in a form and get a free estimate of the price and time needed to develop the desired tool.