The Idea Behind the Indicator
The indicator represents long-period candlesticks on the current chart. It draws rectangles showing information about given-period candlesticks:
Maximum and minimum candlestick price
Opening and closing time
Bearish or bullish candlestick colors
Switch between high-level periods by clicking the given period button in the right top corner. When the indicator is activated, the rectangles will automatically be altered to that period.
Moreover, the indicator has a function of displaying the high-period-candlestick tick volume. You should click the right rectangle on the chart. After repeated clicks on it, the data is hidden. The tick volume is displayed in the left top corner by default.
If you add an indicator to the chart, it will draw high-period candlesticks rectangles automatically. If you select the maximum period (Monthly), the tool will not function.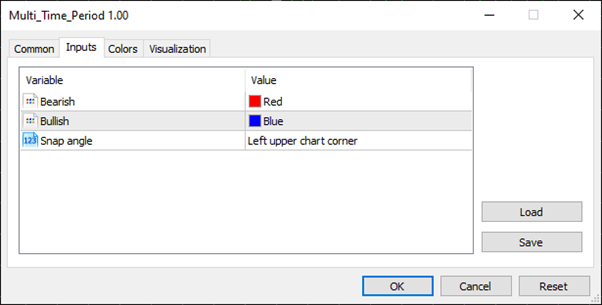 Input Parameters
Indicator Parameters
Bearish — bear (upward) candlestick color selection.
Bullish — bull (downward) candlestick color selection.
Snap angle — snap angle selection for a tick volume rectangle.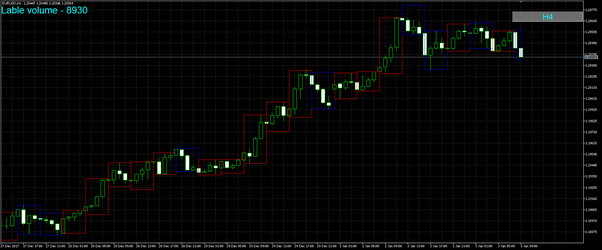 An Example of the H1 Indicator on the Chart
The H1 chart indicator represents the H4 chart candlesticks applying rectangles. The tick volume appeared in the left top corner of the chart after the last rectangle (the H4 chart) candlestick had been clicked. The period name displayed by the indicator has been written on the right top corner button.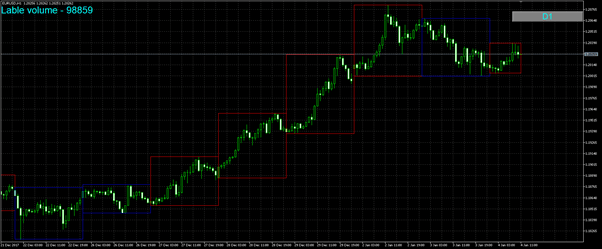 An Example of Period Switching
The indicator is working with low-level timeframes only. If you select the maximum period, the tool will not function.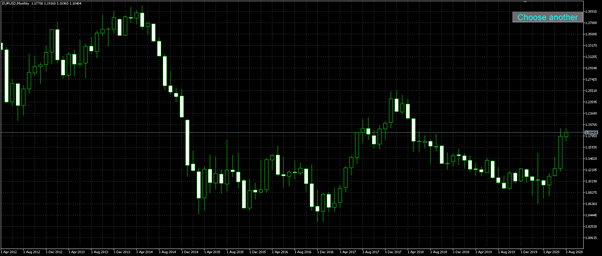 An Indicator Located on the Maximum Period
Technical Requirements
Here is what you need to run this indicator:
A computer capable of running the MetaTrader 5® desktop version.
The computer working hours should match the trading hours. The MT5® platform must be launched.
The installed tool must be configured on the MT5® chart.
Frequently Asked Questions
What is your refund policy? All sales are final since downloadable products can not be returned. Please be sure you are using MetaTrader 5® before buying. If you are having issues with your indicator, contact 4xDev Support. We are happy to help.
Will the indicator work with my broker? This indicator will work with any broker that uses the MetaTrader 5® platform.
Should I use a demo account? It is highly recommended that you use this indicator in a demo account before you trade live. Then you will get a feel for how it works.
Can this indicator be used on more than one computer? You can use the tool on any computer you own.
Does this indicator track timeframes and currency pairs? It will only track currency pairs and timeframes on opened charts (on which the tool is attached and correctly configured).
You are free in your final choice and let it be the right one. Everyone profits!